Wall Street Trading Desks, Inc. specializes in the design and manufacturing of
Trading Desks - Network Operation Centers (NOCs) - Command/Control consoles - Bench System Desking for open plan office areas.
Our desking system is modular and flexible. Desks can be re-configured and re-constructed using existing components allowing the client to keep up with changes in technology without the expense of all new furniture.
Desk Sizes
Typical desk widths are 60"/ 66"/ 72" wide x 30-36" deep for a single desk or 60-72" deep for a double (back to back) desk. Custom sizes are available upon request.
Quick Ship available in 60" width only
Composition & Materials
Desk frames are made out of 100% re-cyclable 1 ½" square section aluminum extrusion.
Standard worksurfaces are thermofoil laminate self edge. Worksurfaces are also available in plastic laminate from Nevamar, Wilsonart, Formica and Pionite*. Edge details are either applied composite rubber, poly-cast resin, post-formed laminate or solid wood.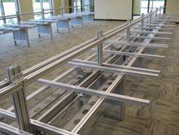 click to enlarge
Power & Data Cable Management
Power and data outlets can be attached to mounting boards at either end of the desk module or on the continuous width mounting board running horizontally through the desk base frame.
Cable trays (one per position) run continuously through the desk modules and include cable tie eyes.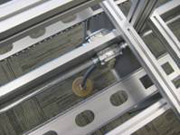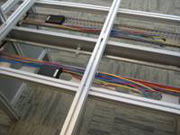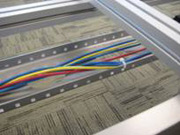 click to enlarge
Styles
Desk systems are typically linear or curved and can be configured in any shape to meet the given space requirements.
Linear:
Curved:
Custom:
Accessories
Storage Units:
Wall Street Trading Desks' standard storage unit is a metal three drawer box/box/file mobile lockable pedestal drawer with metallic paint finish. Two-drawer file/file and two-drawer box/file cushion top are also available.
Pedestal drawers in plastic laminate, painted mdf and veneers are also available as upgrades to the standard peds shown.


click to enlarge
Power Outlets:
Worksurface mounted "flip-up" power and data outlets are available in different configurations.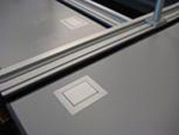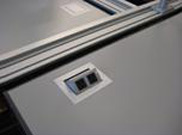 click to enlarge
Quick Ship Program
The Level 1 Bench System Desk is available in our Quick Ship Program. This Quick Ship desk comes in two sizes:
60" wide x 33" deep – single desk (one person)
60" wide x 66" deep – double (back to back) desk (two person)
The worksurfaces are thermofoil laminate self edge in silver and salt & pepper.
The end panels are black or dark grey laminate with pvc edgeband.
The pedestal drawers are metal, b/b/f mobile metallic paint finish in silver or black.
The frame is anodized aluminum in silver or black.
Monitors Arms in silver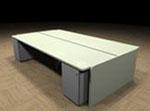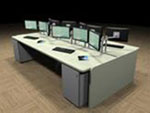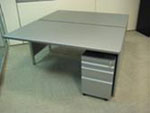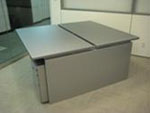 click to enlarge